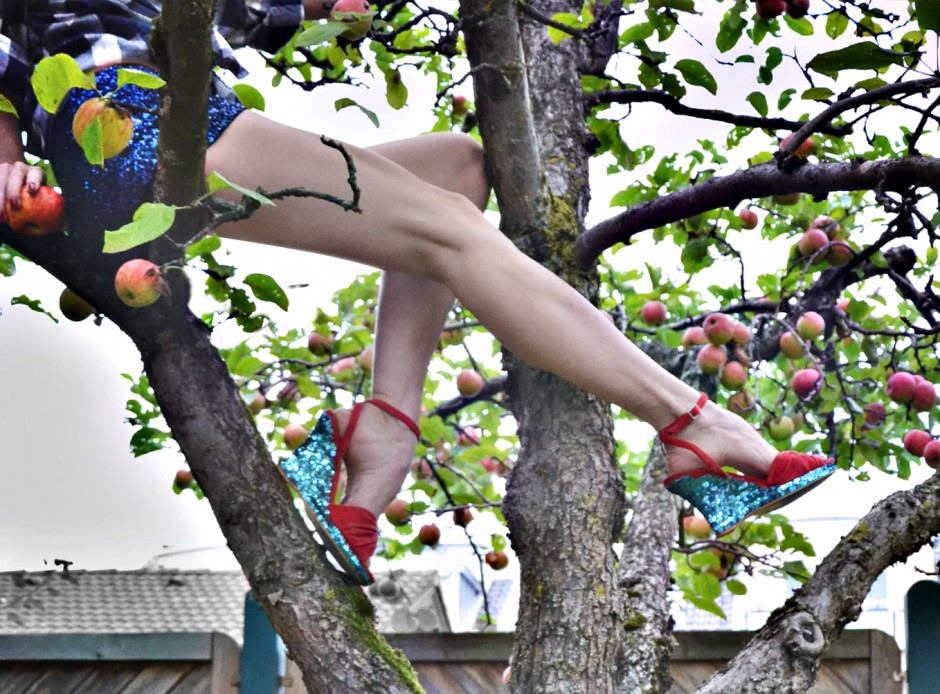 Am überstylish high heel princess inhaling Hollywood gossip for breakfast, studying Yayoi Kusama's polka dots as if they were the latest NASA report from Mars (well, a universe on a Louis Vuitton handbag is at least as interesting as dull pictures from another planet), and my idea of "the country side" only includes a) a fancy party / wedding / other cool occasion where I have to wear heels, b) a car, carriage or helicopter (to get there AND away quickly and in style), c) if both not available: a lot of alcohol.
After three days of staying with my sister's family, tucked in the corner of Bavaria (no carriage anywhere near) my brain has obviously turned from Gabbana to Banana and from tense to mellow. Now obey "Schweinebraten" instead of Hollywood, and wonder just how this could have happened?
Am sitting in an apple tree to harvest some fruit which will (with the help of a nine year old) be turned into some golden brown deliciously smelling apple pie. Of course served with whipped cream. Calories, which? Moschino, who? Welcome to the country side, am loving it.
xxx

Today's shoes are Avantgarde