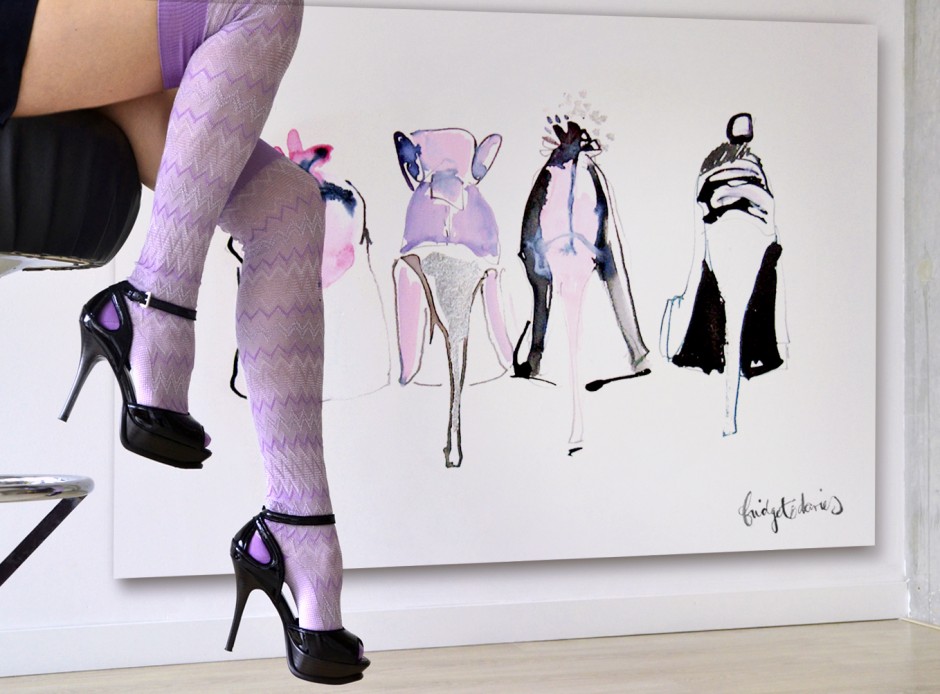 I was searching for some little heel drawing for eddalovesheels.com, you know: the graphic dot on the eye and since all my disastrous attempts to sketch something myself went straight to the bin, I needed some help from my best friend: the internet.
After having worked myself through tons of housewife doodles (which even sucked more than mine), and almost about to give up, I stumbled on the beautiful work of a woman called Bridget Davies. A whole world of paintings and fashion illustrations in watercolors and inks. A dream caught on paper! And her heel drawings! All so delicately worked out, some embellished with ceramics and embroidery, that I actually would die to have them on my feet rather than hanging on a wall (which I... erg.... wouldn't mind actually either).
What an inspiration, and exactly what I had in mind. Nervously I contacted the artist (you never know what kind of response to expect: felt like writing to Karl Lagerfeld and asking if he could just sent me one of his hand tailored evening gowns just because).
Turns out that this lovely lady is not only passionate about her work, but about sharing as well. A bunch of emails later (a firework of questions about influences and inspiration the length of a small novel (got a little carried away in my enthusiasm), I feel like having had a the loveliest conversation with an old friend.
Am proudly adding a new heel to my shoe collection (ie internet-header) now.
A real Bridget Davies: am so honored!
Today's shoes are Bridget Davies - who cares what I am wearing on my feet...