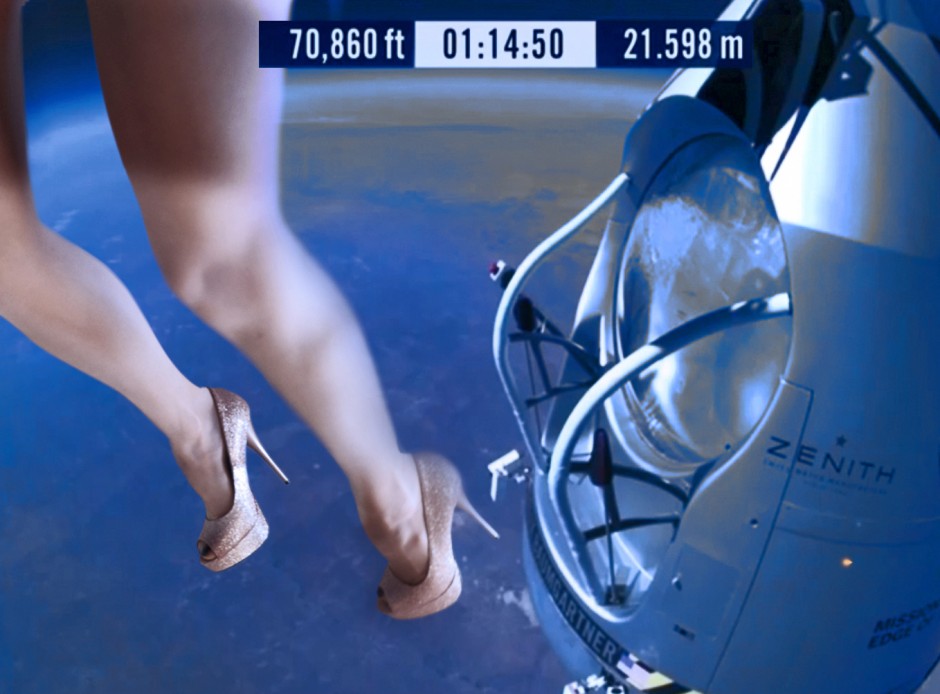 My apologies. Firstly, for the resolution of today's picture which unfortunately didn't turn out to be quite the quality I wished for. But you must know that my mate Felix (who took the photo) was busy concentrating on himself (being the gentleman he is though, he did consider the demands of a lady and let her go (erg... jump) first...) and that it's really hard to fiddle with a camera at a height of almost 22.000 m. Secondly, for today's lack of styling, but Red Bull only provided one small pocket mirror in the capsule which Mr. Baumgartner and I had to share.
Was really excited when Felix invited me over for balloon ride, although am actually afraid of heights and would fancy breaking some heel-record rather than the speed of sound... But since we are both from Salzburg and therefor share a history of eating Apfelstrudel and dancing the waltz, I couldn't say no (plus, like ideas that are "outta space"). Having been quite nervous, am super glad everything went so smoothly (although lost a heel while landing which sucks big time).
Now believe it's time for a new famous quote: One small step for a shoe, a giant leap for heel-kind.
xxx
Today's shoes are Blink