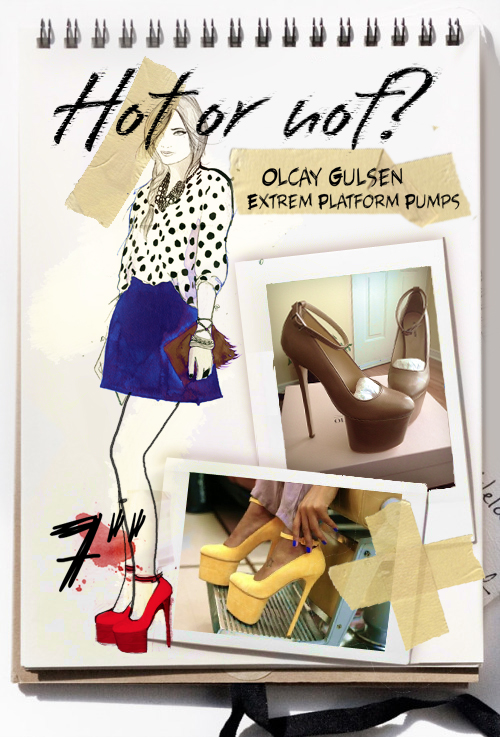 Heard the whispers for a long time, and obviously in the US (the bigger and faster selling sister of any European country) they've been sold out for a while, but wawawoom: Olcay Gulsen's extreme platforms are finally available in Amsterdam too.
Having seen the excited faces of buyer staff members and anticipating clients alike (rumors of a waiting list circled around town) over the news, I was curious enough to have a look at the mysterious heels that were causing such a hype. Which was quite awkward at just that time when this season's kitten heels and flats have formed a union to relieve our hurting feet. In other words: I was just over trying to sport stripper heels without cracking my head on BF's record collection (top shelf). And now we're talking 7 inches. Boy, that's something! Have seen a lot of petit Hollywood ladies wearing them already though (which is a smart move: will allow them to see more than the navel of their directors), but do I see those beauties on the more than tall, average Dutch woman?
Luckily I am not Dutch, so why not give some balance lessons a try. Nothing better to do on an average Sunday than to play Courtney Stodden anyway. BF won't mind some broken records will he? So what do you say: Hot or not?
xxx
Today's shoes are Olcay Gulsen