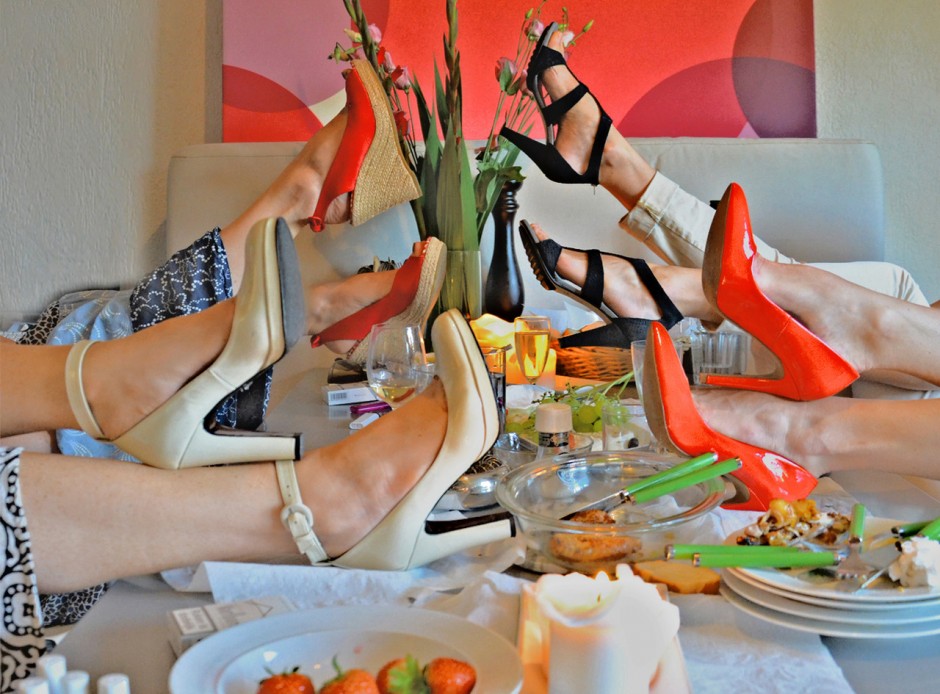 My house often feels kind of like an editorial office.
Most of my shoe-magic happens here, pictures are taken in every corner possible, and the hallway usually looks like the fashion-shoot-closet of a magazine. Quickly tidied up the latter for a spontaneous girl's night yesterday: my third floor was enriched by my Dutch girlfriends' presence (a very welcome change to my usual "one woman show").
And if I ever feel that what I'm making here is kind of glossy-stylie:  when four girls gather you definitely have the full content of a magazine covered, just by babbling and bubbly-ing along.
Gossip and Lifestyle-section: check (cheering, laughter, a lot of hysterical "r.e.a.l.l.y.'s???"). Beauty and Health: check (nothing better than a cream or nail polish, tested and approved by your girlfriends). Fashion issues (what to wear, styling tips, accessories): always a topic (and how happy can you make a gal by asking if she bought her dress in the children's department). The "Real Life" -section: check (-narrated as live and true as it can be): understanding and caring nods, and a hug when needed. Not to forget "ask anything you want", "horoscope", "where to buy" and "shopping guide".
Best of all though: this very editorial office eats carbs, slurps wine, and isn't afraid of making very long hours. The girls on the third floor were truly busy yesterday. Must say, one of the best editorial "meetings' I've ever had!
xxx
Today's shoes are various