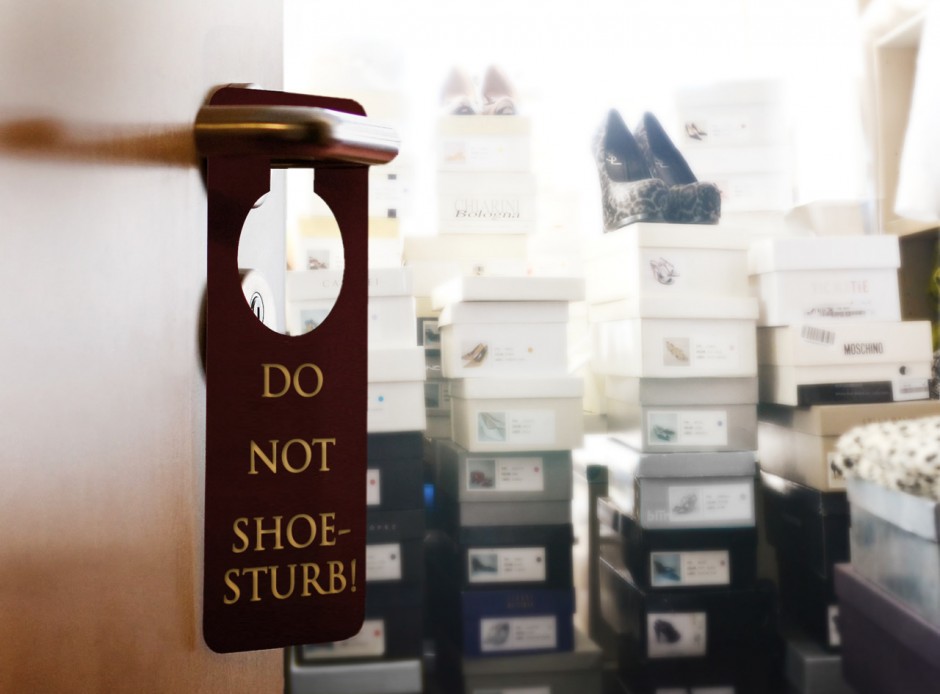 A couple of years ago boyfriend had no girlfriend and an empty house,  sharing it happily with his record collection and synthesizers.
He had a huge spare room filled only with old furniture, some paper crafted mini-airplanes and the odd friend crashing on the (spare) couch.
Then he decided to drag an Austrian chick to Holland and all of a sudden he had the girl AND her friends in his house. 256 (and counting) really CLOSE ones to be precise…
And no spare room  - or spare couch for that matter - anymore. That spare room had very quickly become the "shoe-room". Yeah, well, my babies need to sleep somewhere too, right?
It's not that I hadn't warned him how serious my relationship with my friends is, and how close we are. In any case, I think he got the idea the night "we" arrived, and I insisted on carrying all 210 (back then) shoeboxes into the house at 2 o'clock in the morning (I could never have had a good start in a new country if my lovelies had been stolen the first night, having been abandoned to "sleep" on the street in a moving truck!).
So this is where they live now, carefully tucked in their (labeled) boxes (otherwise I wouldn't stand a chance of finding any of them), arranged by color and brand, and awaiting their big moment when they get to come out for the perfect event.
I am actually wondering if boyfriend would mind switching our bedroom with shoe bedroom since the number of my friends is increasing.
I think my heels would appreciate having a room "with a view" (aka balcony), wouldn't they?

Until then my "do not shoe-sturb" sign will just remain where it is.
xxx
P.S.: Today's shoes are sleeping in their boxes awaiting arrival of new mates