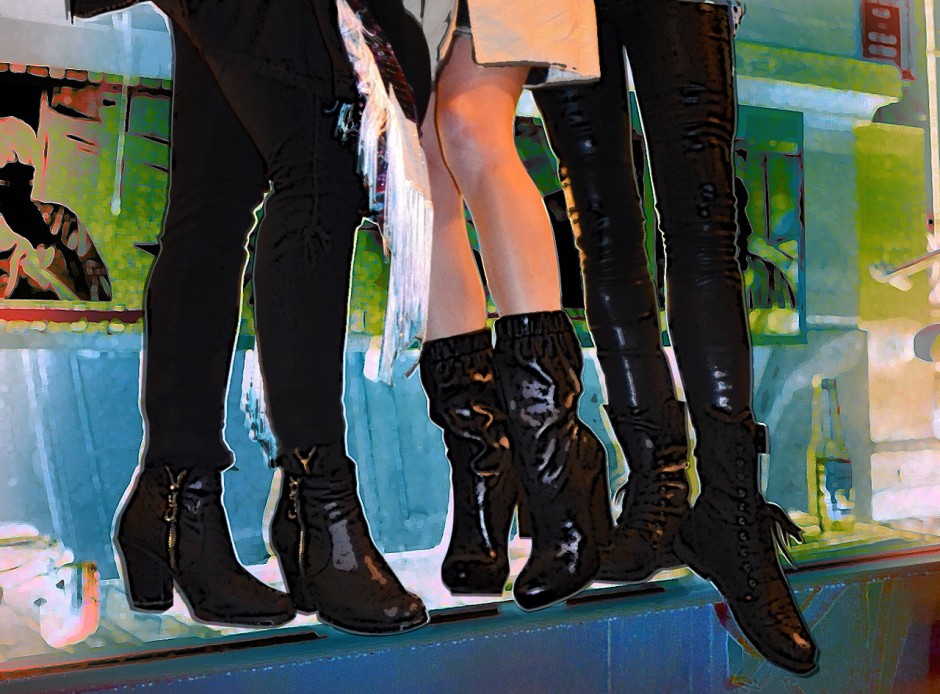 "Rock bitch" is in town and has brought "Sexy Bitch" along. Add me ("heel bitch"), and together we make a fabulous trio: Women in black.
Without even having discussed what to wear (usually a staple call for all lady appointments) we are all on the same fashion page: all wearing… black. This of course has nothing to do with the fact that the weather is once again having a complete blackout, making the movie "Black Rain" look like a children's tale. But hey: nothing that couldn't be overcome with some black humor. And lots of it. While updating each other on recent happenings, armed with blackberries (to show emails sent by possible relationship candidates – who had been blacklisted almost immediately due to incapability of writing and lack of humor) and over White Russians (no Black Russians available), I can't help but giggle over our "black Wednesday night out".
Sexy bitch, in black leather pants and all smoky eye, Rock bitch (black hat!) referring over the difference between Black Sabbath and Black Keys, and me almost tempted to wear my sunglasses at night to cover evidence of overwork (black circles UNDER eyes).
Well, no one can say we're not ready for AutumnWinter 2012: where the hottest color to wear will be… yeah, exactly!
Other than Women in Black we would make a perfect cast for any Robert Rodriguez movie coming up.
See you in "Sin City", part 2.
xxx
P.S.: Today's shoes are…. very black indeed….