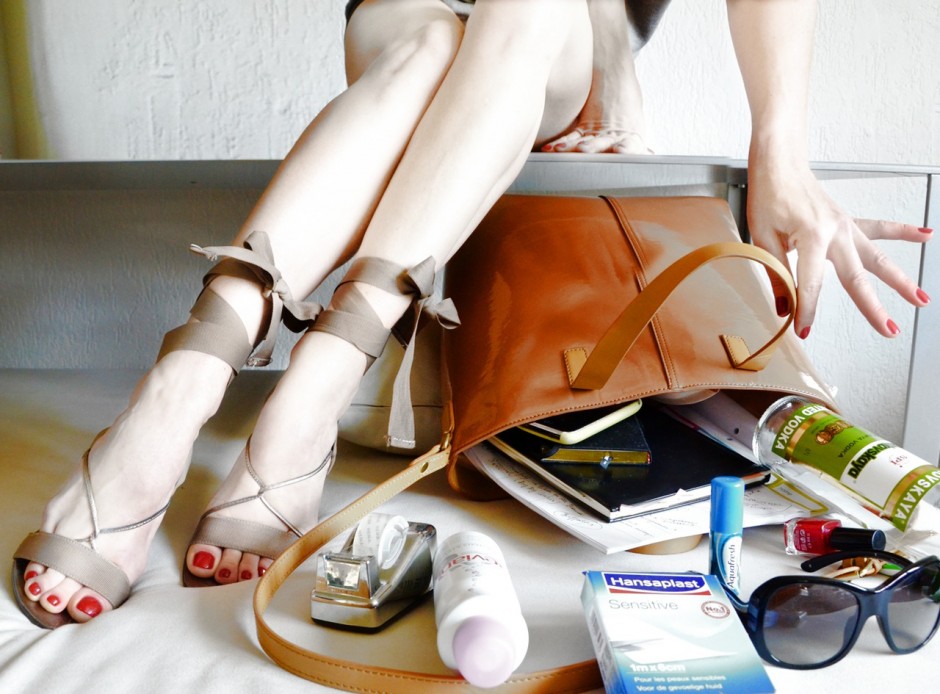 I've always been a fan of the "show me your purse" sites on the net.
Fashion babes from all over the world reveal the inside of a woman's sanctuary: the content of her MiuMiu. Or Prada. Or "other".
Mainly on display are neatly arranged mobiles, agendas, lipsticks and other beauty devices, keys and hankies.
Well, it seems that I would fall under the category "other ".
Bag is unfortunately not Prada, I would be mad to take that type of bag when packing for five days of Mayhem: Cannes.
I won't lie to you dear readers, the content of THIS bag is more of an ultimate preparation for 5 days of leaving your brain at the last party attended.
Let's call it a survival kit for all possible situations.
Meaning:
* Shades (essential for covering raccoon eyes)
* Camera (for covering evidence)
* Evian spray (might get hot)
* Vodka (for spontaneous party on the beach with no booze supply)
* Aquafresh mouth spray (for the reasons of vodka)
* Toothbrush and undies (for breakfast after beach party: shades are also strongly recommended)
* Band-aids (Blister danger after dancing all night long)
* Tixo (Why not?)
Having checked all the above, the only question that remains is: where the hell are my Flip Flops?
You don't seriously think this can be survived only in heels, do you?
xxx
Todays shoes are SHE