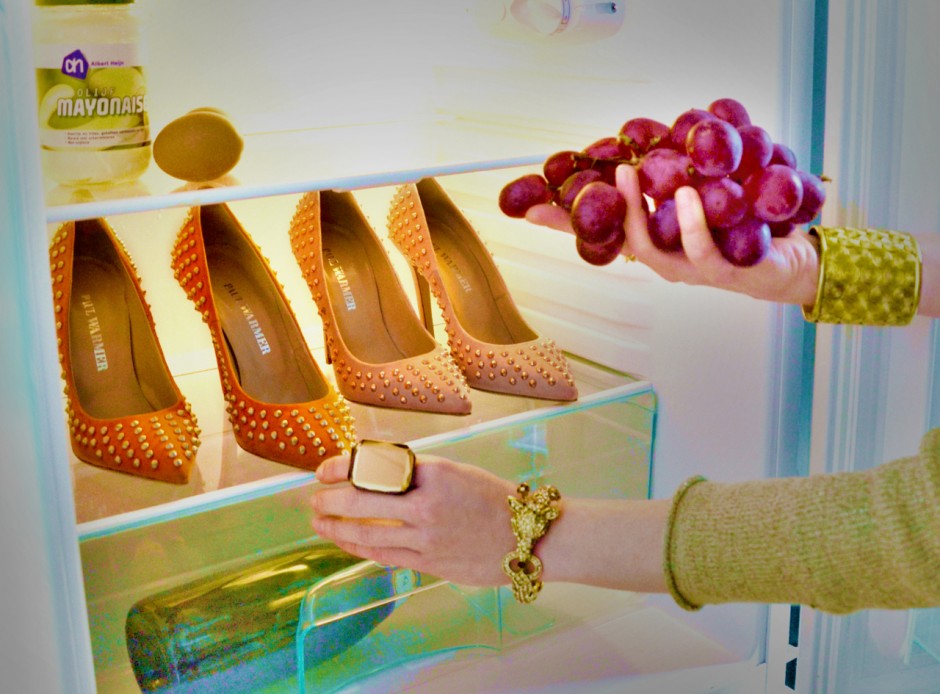 As the weather is playing winter again (making healthy outdoor activities such as "walking heels", "terrace hopping", and "picnic-blanket-diving" impossible), I am forced to focus on indoor activities or let's just say: concentrate on (step one to outer beauty): inner health.
The time to prep body for 'glowing goddess' emergence when spring finally arrives is NOW. And of course I am fully aware that inner health starts with the right ingredients.
Food to be precise. Taking my new role as a nutritionist very seriously, I strip the contents of fridge to what's really important.
Vitamins (see grapes in liquid and solid form) are essential, as is it to not detain from saturates (check: olives, aka mayo!). Add to that the fact that we ladies also often suffer from chronic iron deficiency, I know just what to stock up on.
I'm sure it won't come as a surprise that my compound to battle iron deficiency can be found in a shoe shop rather than a health food store: Shoes in vitamin colors will give your body (well, feet) the boost they need in rough weather times: think orange (vitamin C) and salmon (vitamin D), as shown today. And with the cutest iron studs, I perk up immediately.
Yeah, April you just fool around: I am very much prepared.
xxx
Today's shoes are Paul Warmer.