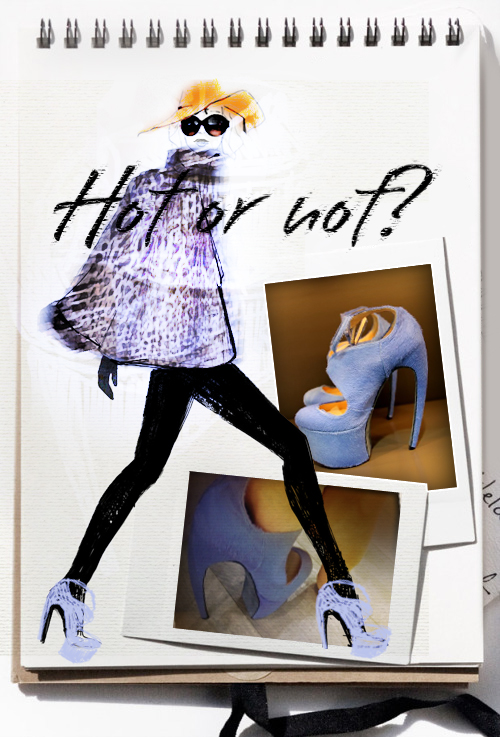 OK. Ladies.
Again I have been on the search for a (really) exciting and outrageous shoe for month's. I mean not something classic, or something you can actually WEAR,
something outrageous, which will not only put me on a plateau, but on adrenalin.
(High standards here on both levels!)
So I came across this beauty.
It IS a beauty, although everyone (men though) I asked about this very pair told me it's just ugly. "Alien like" I was told and some didn't get the idea that even
if you are not able to WALK this shoe, it would complete my collection.
(I'm very much used to that actually :-)).
So here is what is happening to me, when I came across a shoe like that.
The switch in my brain that says "ratio" completely turns off.
Like to zero. Nada. Null.
The only thing I see is the "big difference" to any heel I own.
The heel and the platform, impossible to walk through life with it and therefor so interesting (analogy to men accepted…)
The shape, the colour, the cut! So exotic and flamboyant.
"Gaga" devil on my shoulder whispers "buy, buy", while on the other side ("Lady" - who is responsible for my bank account) holds up against it shouting "no, no".
I am still in doubt (and in discussion with "Lady" and "Gaga"}
What do you think?
Hot or not?
P.S.: Todays shoes are Thierry Mugler