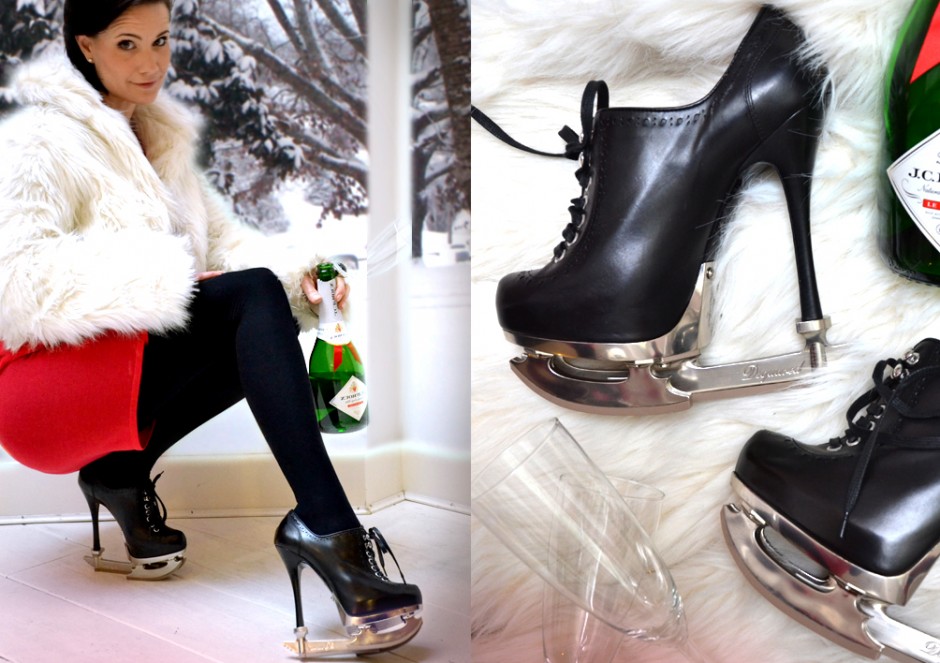 Even in my absence I couldn´t help but notice that Holland got infected with a strange virus these days.
All of a sudden not only my friends pictures were all about standing on frozen canals in "Yeti"-like outfits,  also the official press was posting just about one thing: skating, skating, skating.
The whole country has just gone mad for the pleasure to slide on ice.
It´s actually that bad that even my favorite gossip programs (not to mention every weather report) is about one thing: "Will the ice be thick enough to allow people to put on their skating boots", culminating yesterday when a grown up man started crying on public television when it was officially announced that a famous ice skating race in Friesland would not be held due to the ice not being thick enough.
I can tell you that the guy would have sacrificed his life anyway just to be able to skate. The ultimate "melt down"!
Hmm. Since you know that I am not really into sports ("running" through the Vogue back and forth doesn´t qualify…) plus I grew up in a country where skiing and skating is quite normal, I must admit to have difficulties to understand the hype.
What I DO understand though, is the current hype about the "Skate Moss" booties.
Aren´t they lovely? And I can assure you, you actually walk on them like on clouds. Heaven! No ice or cold, no blue stains from falling on your butt, no dripping noses and freezing hands involved, I will enjoy this seasons "Ice age" differently.
Fire place, polar bear´s fur (vintage obviously) bubbly and this pair of Dsquared it will be.
The best thing?
They will even carry you when the ice has melted.
xxx
P.S.: Todays shoes are Dsquared.
P.S.: If you rush to Paul Warmer immediately, you will have the chance to still score a pair!