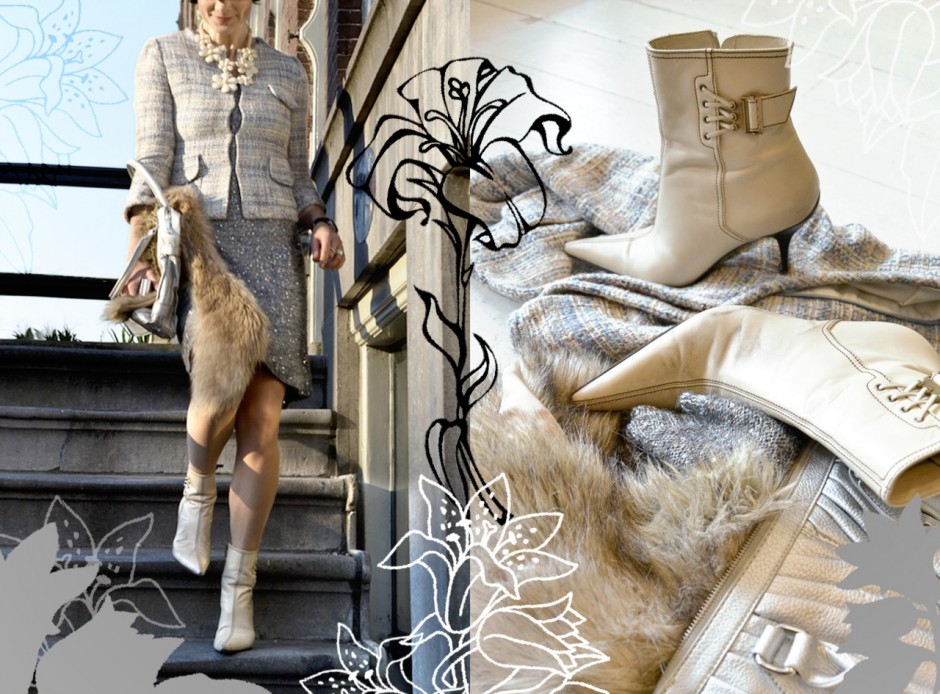 When I decided to move to Amsterdam five years ago I came for love.
And love, (the bitch) turns everything pink and gorgeous and wonderful,
so nothing (ABSOLUTELY NOTHING) could have spoiled my experience of living here for the first… (erg, hmm, I actually still like it here…) OK, well let's say everything was great.
I didn't speak a word of Dutch, and little did I know about the things which would rule my world to date.
Cheese, rain, cobble stone, riding a bike, wind, more rain,
and due to wind and riding a bike and rain and cobble stone more cheese.
Of course I also moved all my "schatjes" (Dutch for lovelies), in their boxes,
and how eager they were to be worn and to explore their new playground!
So on one of my firste days here, I decided to wear my beloved Casadei's.
I had an appointment, and I wanted to look utterly French.
Dutch style I didn't know and Austrian seemed soooo yesterday,
plus it was a little bit rainy, so I thought a French outfit would be a good choice.
(Go see "Midnight in Paris": the French LOVE rain (and everything shown on TV is true!)
So cream coloured shoes, trench, barrette, suspenders…. you get the picture.
And since I haven't had a bike back then: I walked.
By the time I was half ways it was pouring, and I was in desperate need for a cab.
Chanceless. Being a tough gal I thought I would make it through the rain: (ha, you ladies don't know HOW it can rain over here), I mean: at least my suspenders weren't soaking wet, but hell: the shoes were!
Cream coloured shoes!
No "Shoe Whisperer" (aka shoemaker) would ever get the muddy stains out of the leather. *sigh* They were ruined for good.
So today (all blue sky and beautiful weather) I'm going to pay them their last respect,
walking them just only once more over Amsterdam's cobble stones (in a French outfit).
RIP Casadei's, I will miss you very much.
xxx
Todays shoes are: well, what do you think?