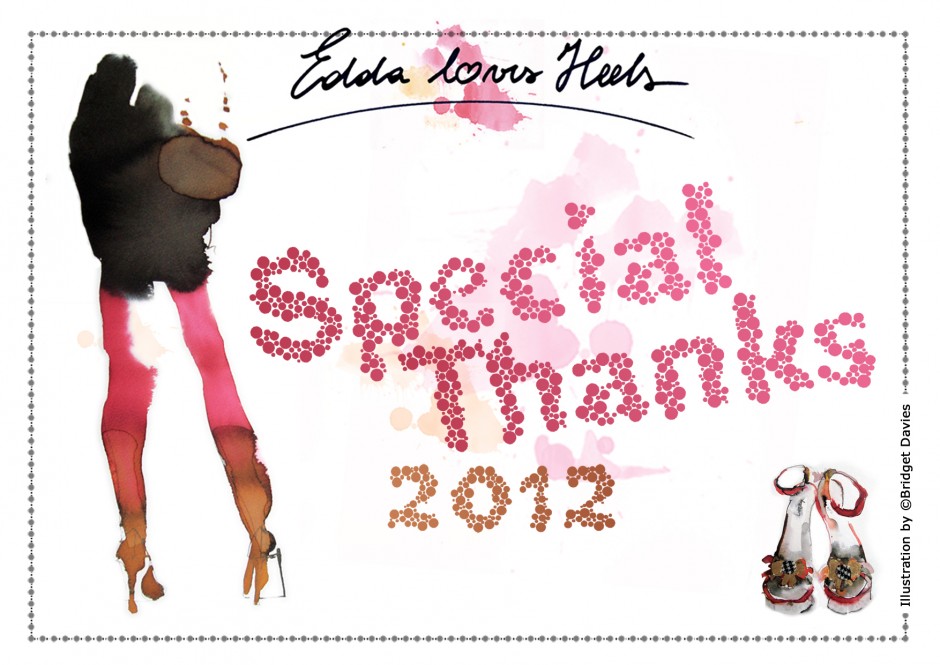 ♥ To my lovely boyfriend Auke Riemersma, for literally walking with, and supporting me for 366 days, without a single day off. It wasn't always easy, I know, but if ever you were in doubt: I love you more than my heels schatje, really!
♥ To best editor Caroline van Leuven, who was sent from heaven, and who literally shared every day of 2012 with me through her editing (and reading my long and explaining mails every day). Thank you my dear editor-turned-friend, I am so glad we met.
♥ To my friends Ulli Pötschke and Stefan Schröcker, who supported my idea of writing initially and without whom I would still just be thinking about starting a heel blog.
♥ To my lovely family, especially my Mom Frauke, my sister Gerrit, my cousin Birgit (aka role-model) and her lovely daughter Nora who all gathered night after night to read what I was actually up to, as they didn't hear much from me this year: You are the best!
♥ To the fabulous team at STRANGELOVE, especially Vincent, Jeroen and Franklin who not only built my website but also my confidence and never tired of advising and encouraging me. Whenever in need of some (very good looking!) media pro's: call them!
♥ To illustrator extraordinaire Bridget Davies, who so nicely let me use her high heel illustration for my "Eddalovesheels" banner, and today's thank you note. Check her work, it's lovely indeed.
♥ To my favorite photographers this year (behalf BF) Tim Ayres and Nancy Cornelissen, who never said "no" when I asked them for help: thanks for all your extra hours and the stunning results!
♥ To my friends in Vienna, who gave me my Nikon (favorite accessory of the year 2012) as a B-day present. You know who you are but have no idea how dear this present has become to me over the past 366 days.
♥ To Tim Peterson for writing my press kit.
♥ To my favorite heel dealers Paul Warmer (Patricia and Atif: you rock!), Shoetation (Harald, we still good for the shoe fair this spring?), Azzurro (Richard and Saskia, I did not forget your help!), Daniele Dentici (especially the inspiring Marco Marcus) and United Nude: without you guys a lot of my favorite posts (and heels) during this year wouldn't have been possible to shoot: I bow!
♥ To my Musketeers (Ton, Marco (aka Schöner Mann) and CCF Janne), for always pretending to being interested in my shoe babble, and my girls, Connie, Sandra, Sonja, Eva, Anja, Livia (aka Rockbitch), Nica, Schnuffelchen Su, Geke, Iris, Caroline, and Kim, for always being my backbone (even though not seeing each other that much) and having an ear when things got tough and a shoulder to lean on was needed. Oh: and Sabine, Laura, Marjolijn and (although very male) Stefan: thank you so much for "liking" all the time!
♥ To my mates Dylan, Andre (aka favorite guitar player) and Jürgen (aka favorite drummer) for having had the pleasure seeing you during this hectic year.
♥ To Moët Chandon and Senseo Coffee, for always being available to consume and perking me up. (We need to talk sponsoring!)
♥ And last but not least, to my dear readers for participating, writing to me, following my year in heels, and being such a nice and attentive audience.
THANK YOU ALL FOR AN EXTRAORDINARY YEAR!
Today's shoes are: Shoes? Who is talking about shoes here?